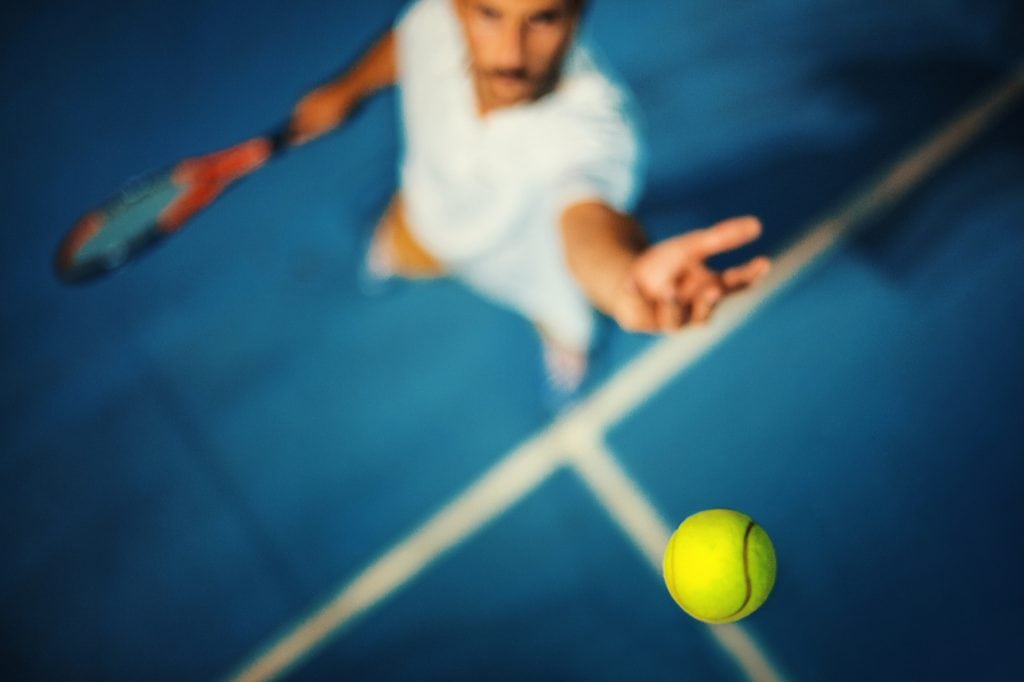 World No.2-ranked tennis player Novak Djokovic's ball toss is virtually unreadable to his opponents trying to predict what type of serve he will deliver. In contrast, big-serving Milos Raonic has different tosses for different serves, making it easier for opponents to detect. Meanwhile, world No.1 Andy Murray had a "secret weapon" to help beat Raonic in their hard-fought semi-final at the 2016 Australian Open.
These are among the fascinating findings of an innovative Monash Business School research project that has analysed the ball toss and serving style of eight grand slam players at the 2016 Australian Open. The research reveals how some players individually hone their serves against specific competitors.
A team of five Monash Business School students analysed Hawk Eye trajectory data used by the Open to determine the distinctive characteristics of the players' serves.
Hawk Eye technology uses high speed cameras around the edge of the tennis court to track shots and convert the video to data, allowing for accurate replay.
The group – Mitch O'Hara-Wild, Stephanie Kobakian, Braden Churcher, Madeline Jom and Alwin Wang – were led by Monash Business School's Professor Dianne Cook, Department of Econometrics and Business Statistics, with Tennis Australia's tennis data scientist Dr Stephanie Kovalchik.
The students tracked 2000 serves made by the tournament's top male players, including Andy Murray, Novak Djokovic, Roger Federer, Tomas Berdych, David Ferrer, Kei Nishikori, Gael Monfils and Milos Raonic.
They then analysed how often players used different types of serves – flat, top spin, kick and slice. These are controlled by the ball toss and the way the racquet impacts the ball.
The group found Djokovic gives almost no useful cues from his ball toss on the kind of serve his opponent can expect.
"Novak Djokovic is the master of disguise with a very consistent ball toss," says Professor Cook.
"He has a number of different serves but they all come from the same ball toss."
In contrast, the big-serving Milos Raonic has a more readable serve, she says. During the Australian Open, Raonic's serve style differed markedly from the other players.
He typically used a very fast, flat serve for his first serve, while his second serve was also fast, but with more bounce. But the research shows he tends to telegraph the type of serve he was sending to opponents.
"Raonic has a different ball toss for each type of serve he does. Any opponent with good eyesight will be able to predict the ball that will be served," Professor Cook says.
When world No.1 Andy Murray defeated Raonic in last year's Australian Open semi-final, he repeatedly delivered a particular serve to Raonic during their five-set battle that he did not use with the same frequency on other opponents.
"Most players have a kick serve for their second serve, where the ball changes angle dramatically after bouncing," Professor Cook says.
"A few players including Murray, Nishikori, Kyrgios, Monfils and Djokovic have an ad-side serve down the T which kicks towards the deuce side. Murray's is a scorcher!
"This appears to be one of Murray's weapons and he used this effectively against Raonic to stop his Australian Open run."
Some members of the same team are now working on a second project studying how the emotional state of a player impacts their game. The two-part study involves using facial recognition software to better understand how emotions impact player performance and will be completed over summer.