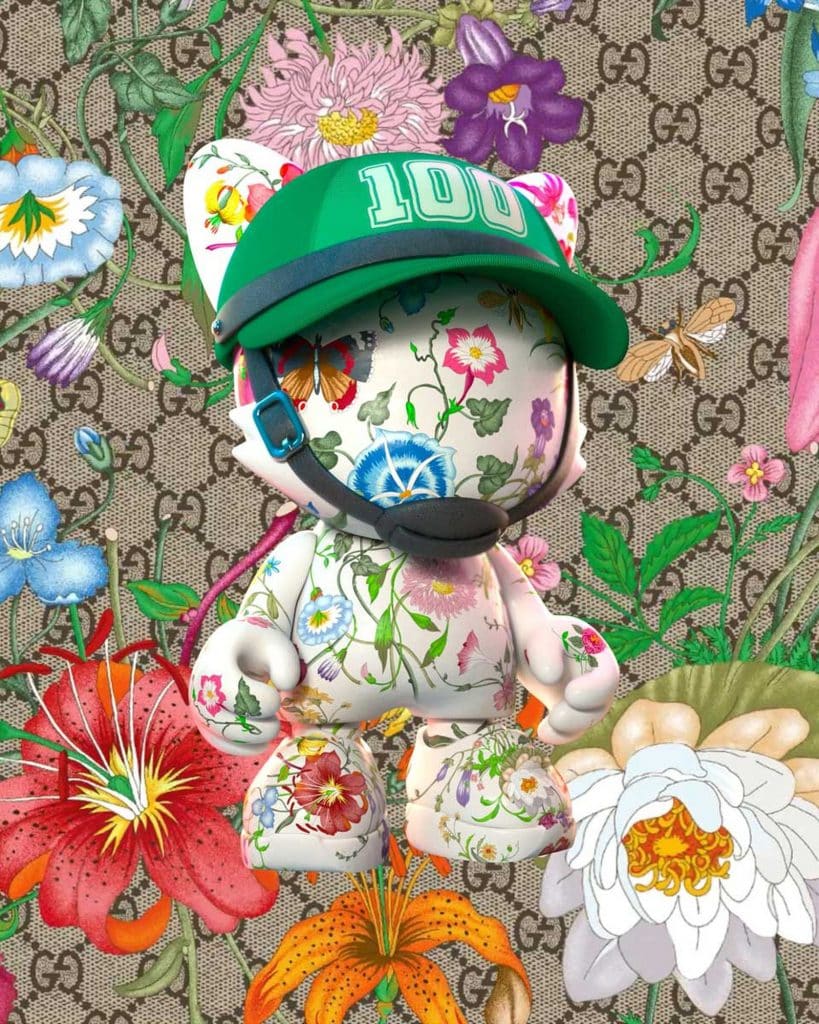 Retailers are luring shoppers back in-store, delving into innovative online shopping experiences and experimenting with the metaverse.
In February, luxury fashion brand Gucci experimented with the metaverse to partner with multimedia company SUPERPLASTIC, creating a collection of ten Non Fungible Tokens (NFT) artworks (such as the one pictured above) that come with a limited-edition handmade ceramic sculpture.
It joined other established retailers cautiously dipping into the virtual world as retailers adapt to post-pandemic shopper and grapple with a redefined retail landscape – from an e-commerce boom to delivery and shipping preferences, consumer attitudes and changed expectations of what people buy and how they buy.
Let's take a look at the trends to watch for 2022.
Hybrid shopping 
While online shopping has been growing in popularity for several years, research shows that half of shoppers still prefer to visit a physical store and the ability to see, touch and trial goods is the most influential source on purchase decisions.
This year we can expect to see a continuation of this hybrid shopping customer journey.
While some shoppers will continue to make their purchases online due to ease and convenience, many will begin their shopping journey online to compare products and prices but will complete their journey in the physical store.
The consumer journey will cross from online to the physical – and sometimes back again – more than ever before, as many shoppers are now more comfortable buying online, but are also able to visit physical stores once again.
And retailers are taking note, continuing their focus on opening new and exciting concept stores to offer customers a unique retail experience, like Rebel Sport whose latest concept store in Sydney features an indoor basketball court and virtual games.
The emerging role of social media platforms 
As e-commerce continues to boom, we can expect to see more brands and retailers engage in social commerce – that is, to use social media platforms as not just a tool to advertise and showcase products, but as a platform to directly sell products via shoppable content.
In fact, Accenture estimates that the social commerce industry will grow three times as fast as traditional e-commerce, from $492 billion in 2021 to $1.2 trillion by 2025
Social commerce provides shoppers with a seamless experience where they can buy directly in the app, such as via Facebook, TikTok or Wechat, and further blurs the line between shopping and entertainment. This is particularly the case for one of the key forms of social commerce and shoppable content – live streaming.
Live streaming enables retailers to provide a shopping experience that has the ease and experience of online shopping as users can shop from home, and the customer service of physical retail as there are often personal shoppers and sales assistants on hand to help answer customer questions.
Currently, live shopping has been predominantly used by beauty companies like Sephora, but clothing and apparel retailers have also been trialling it as well.
Traditional retail redefined
Live streaming isn't the only way traditional retail is being redefined, with more and more retailers embracing the metaverse as the next frontier of retail.
Gucci's partnership with multimedia company Superplastic follows that of Nike, which opened its own digital world called Nikeland, allowing users to play games while outfitting their avatars in digital versions of their products and receive access to exclusive Nike products.
Closer to home, landlord Vicinity Centres launched an 'NFTree' in Sydney's The Galeries over Christmas; a tree constructed from glass, mirrors, Perspex and digital art.
Renewed focus on the circular economy
Conscious consumption – a shift in values, choices and behaviour which sees consumers becoming more intentional with what they're buying – has been gaining momentum for the last several years and has now resulted in a growing focus on the circular economy, particularly the resale market.
Research on the resale economy estimates that the secondhand market will double to $77 billion by 2025, with resale – the sector of the good quality secondhand that includes more curated assortments as opposed to traditional donations – driving the growth.
Retailers are leveraging this interest, with many traditional or well-established retailers entering the resale market for the first time.
Farfetch, an online luxury retail platform, recently purchased luxury resale platform LUXCLUSIF to accelerate its focus on the resale market. Also last year, Etsy acquired Depop, a social e-commerce company where users buy and sell fashion, for $1.6 billion to further appeal to conscious consumers.
Aussie retailers are also entering the resale market; department store David Jones has entered the circular economy space by partnering with luxury re-seller, Blue Spinach, to offer designer retail resale, while the ICONIC has partnered with AirRobe to allow customers to rent, resell or recycle their pre-loved fashion.
After a few years of dynamic changes and pivoting to survive during the global pandemic, the future is looking brighter for both retailers and consumers.
Shoppers are looking to the future and expectations are high that retailers will now meet their e-commerce needs in a fun and futuristic way.
*Dr Eloise Zoppos is a Principal Research Consultant with the Australian Consumer Research Centre at Monash Business School.