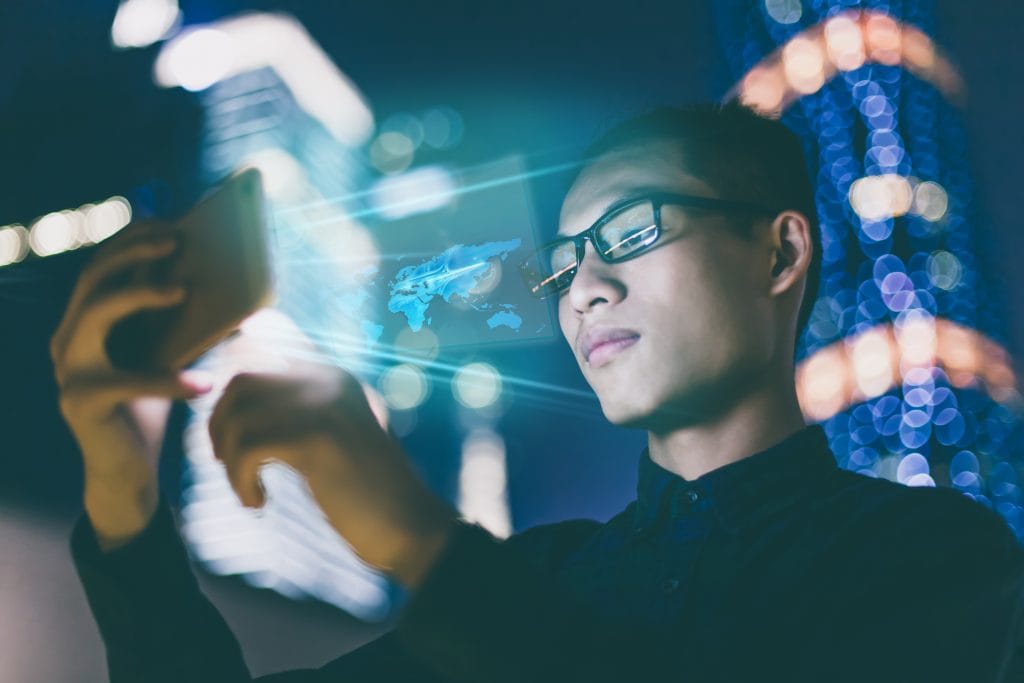 Can a United Nations convention developed before the advent of the modern internet be used in today's fast-paced digital world? Yes, says research.
Fifteen years ago, Apple's iPhone did not exist.
Let that sink in.
Imagine the world without it today.
The amount of data that is collected each day around the world is staggering. Yet, do we even understand that our social media data is being collected and sold each time we innocently log on?
Maybe we realise that everything we do is being monitored and recorded, yet we may not fully understand what this means.
Importantly, are we covered by the law for businesses trading in this precious data?
Current international laws may be ahead of the game
While the law often struggles to keep up with technological developments, it seems that there is an existing set of international laws already in place that could easily fit the bill and be governing this new digital frontier.
Dr Benjamin Hayward, a Senior Lecturer in Business Law and Taxation at Monash Business School, believes there is no need to create new legislation around these data developments.
The United Nations Convention on Contracts for the International Sale of Goods (CISG) – an international sales law treaty that has existed since 1980 and which has applied in Australia since the mid-1980s – has got us covered.
"Data that social media collects are what we would consider non-software data. That is, it is collected by social media companies (and other businesses too) to sell," Dr Hayward says.
And the reason we allow this to happen? It's because we are addicted to 'free'.
"Where we're using technology platforms that are free, we need to be prepared to understand that we are paying for that use in a different way," Dr Hayward says.
"Businesses are collecting our data, and trading it, so we need laws governing that trade just as we need laws to deal with any other business situations."
How the CISG can be applied to data trade today
Rather than re-invent the wheel, Dr Hayward has proposed a simple solution in two separate papers (part 1 and part 2) recently published in the University of New South Wales Law Journal.
He has developed a legal framework for assessing the CISG's capacity to regulate international trade in non-software data: a framework so far uncharted in existing scholarship.
"If we look at the aims of the CISG, they are to harmonise the laws governing the international sale of goods, so that the costs of doing cross-border business are lowered, trade is promoted, and the world's overall economic wellbeing is thereby improved,' he says.
"Given those goals, it's not a significant leap to use this law to govern international data trade."
In other words, the CISG stands ready to function as a modern international treaty capable of evolving to meet continuing advances in technology.
This research shows that the CISG is capable of 'boldly' going where no existing case law (but where much international trade) has gone before.
Software no longer king
Back in the day, software was the focus of existing analyses addressing intangibles trade under the CISG.
But Dr Hayward explains that just as we find ourselves living in a post-truth era, we now also live in a post-software world.
"Software emerged as an independent object of commerce following IBM's separation of hardware and software in the late 1980s. Persisting with software-focused analysis, today, is an exercise grounded in that 1980s world view."
For well over a decade, researchers have mostly accepted the CISG's capacity to regulate software sales.  Dr Hayward's research suggests that investigating the CISG's capacity to govern trade in non-software data is the treaty's next frontier.
And here's the good news for business: it automatically applies if the countries involved have signed the treaty.
Which is good, because currently there are 94 countries that have adopted the CISG including Australia, China and the United States. Surprisingly, the UK and India are the only significant omissions.
While there have not yet been any cases bought before Australian (or any international) courts addressing this issue, Dr Hayward says there have been hundreds of cases in Europe, China, and the United States applying the CISG to trade in ordinary physical goods.
"There is a body of experience here that courts could draw upon," he says.
"Chinese, Swiss, German, Austrian and US courts, in particular, have applied the CISG on many occasions."
Old doesn't mean irrelevant
Given its vintage, the CISG was drafted with traditional (physical) goods trade in mind, but with a few tweaks, this study suggests that it could provide a global framework and protect businesses in this new data scenario.
"A significant body of scholarship has addressed the CISG's capacity to govern electronic software transactions, as an exception to its uncontroversial application to physical goods trade,' Dr Hayward says.
"However, only limited commentary has explored its digital application beyond software per se.  My work is the first to investigate this issue in detail."
While some authorities consider that the passage of time now warrants the CISG's replacement, others (like Dr Hayward) consider that it remains highly relevant in our modern, digitised world.
Cryptocurrency and blockchain
Regardless of some dated technological references in its text, Dr Hayward says the CISG's broadly-framed contract formation rules support electronic contracting and possibly also smart contracts. Based on his research, it can even apply to cryptocurrency trade.
"As cryptocurrency is a type of non-software data, it constitutes 'goods' according to my analysis.  As a result, trading cryptocurrency against traditional state-issued money falls within the CISG's scope as a matter of principle," he says.
Another area that is rising today is trade in NFTs – non-fungible tokens. Dr Hayward similarly believes that disputes involving these unique online products created using blockchain technology could also be covered by the CISG.
"There's been a lot in the media about NFTs, particularly regarding their use to trade in artwork and memes. They are created using blockchain, so the CISG could cover this type of trade as well, if the countries involved have signed the treaty," he says.
'Ready, willing and able to assist'
Business digitalisation is a challenge affecting all industries, including traditional industries, and businesses of all shapes and sizes. Dr Hayward's research suggests that the CISG stands ready, willing, and able to assist.
In other words, the CISG, as a widely accepted international sales law treaty, has an important role to play in facilitating modern commercial data trade.
"Non-software data trade being governed by the CISG may sound 'revolutionary', but as a 'shared' law the CISG can help ensure greater global consistency and predictability in this area of commercial activity: just as it has done in relation to traditional, physical, goods trade," Dr Hayward says.