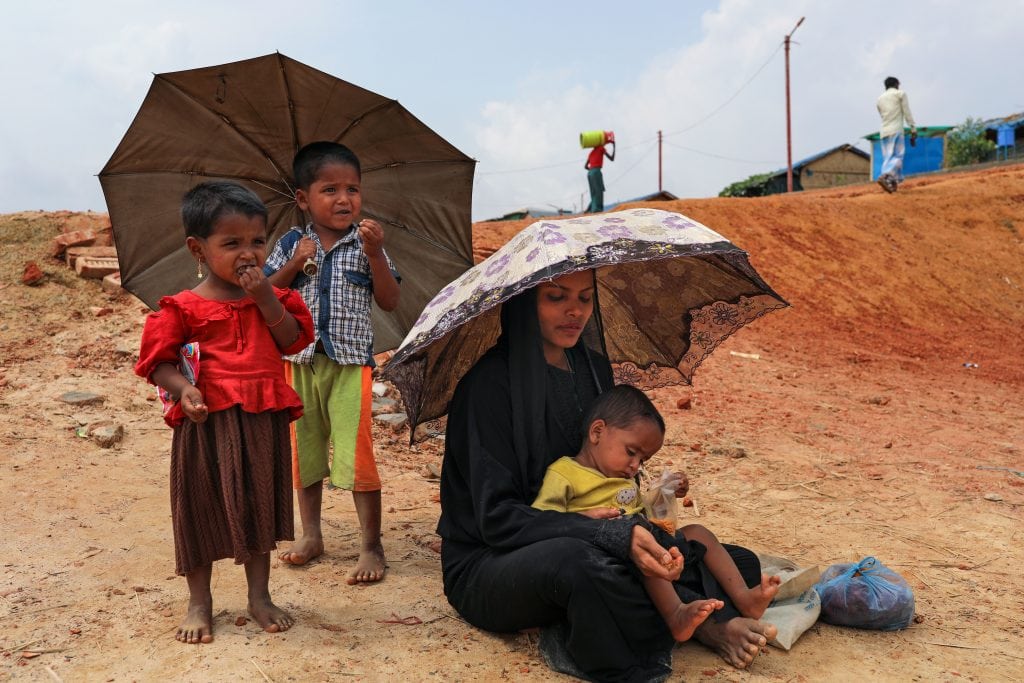 Encouraging play for children and their mothers living in Rohingya refugee camps has far-reaching benefits.
In a Rohingya refugee camp in the south-eastern district of Cox-Bazar in Bangladesh, children play happily with toys and brightly coloured learning tools, helped by their mothers.
For a brief time, these children – and their mothers – can forget their surroundings and find respite from the pain of being persecuted and forced from their homeland, thanks to the highly successful Humanitarian Play Lab program run by BRAC, an international development organisation based in Bangladesh.
Now, a research partnership with Monash Business School reveals how much immersing displaced mothers in simple activities like these can improve their mental health, creating huge benefits both for them and their children.
Teaming with the BRAC Institute of Educational Development (BIED) and the BRAC Institute of Governance and Development (BIGD) in Bangladesh, the Centre for Development Economics and Sustainability (CDES) examined its Humanitarian Play Lab program to assess how  the multifaceted psychosocial program improves the mental wellbeing of these refugee mothers.
"Forced displacement has been a major driver of mental disorders among refugees, due to both pre-migration and post-migration experiences," explains Prof Asad Islam, CDES Director and lead author of the research project.
"Women and children are the most vulnerable groups among the forcibly displaced."
Since 2017, about 750,000 Rohingya refugees have fled to Bangladesh. Just over half (52 per cent) of overall refugees are female, and 55 per cent are children, with 41 per cent below the age of 11 and 18 per cent below the age of four.
Bangladesh's port town of Cox-Bazar has swelled with Rohingya people fleeing persecution, and now it is one of the largest refugee settlements in the world.
Helping children play and learn
The Humanitarian Play Lab program was established by BRAC in 2018 across the refugee camps to provide a safe and stimulating place for displaced children aged up to six, with a strong focus on helping preserve Rohingya culture – including language – through art, learning and play.
For children aged up to two, the program is home-based, while children aged up to six attend a BRAC-run centre.
Providing what is believed to be the first experimental evidence on improving the mental health of vulnerable Rohingya refugees through psychosocial support, the study also sought to delve into the extent that play and learning aids growth and development among children aged under two.
Focusing on the home-based program in 17 of the 34 camps in the district, Prof Islam with colleagues found the intervention improved children's speech and language development, along with their gross motor skills (such as physical movement), problem-solving abilities and personal-social skills.
The children also registered significant reductions in trauma and depression.
In particular, the study found the mental health of mothers who exhibited a baseline of trauma and depression improved substantially after a year of psycho-educational intervention, compared with the mental health of mothers and children in the control group.
"Furthermore, mentally unhealthy mothers that received the treatment caught up to, and often surpassed, the 'mentally-healthy' mothers in the control group following the intervention," Professor Islam says.
Life in the camps
The Rohingya people of Myanmar are an ethnic, linguistic, and religious minority who are usually referred to as 'foreigners' by other ethnic groups in Myanmar. Rohingya have been subject to repeated waves of persecution and forced displacement since Myanmar's independence.
For women, life in the refugee camps is dire, with gender-based violence extremely common and maternal health services grossly under-funded.
They have no ability to earn money, relying entirely on government support, foreign donors, and humanitarian agencies for food, shelter and healthcare.
Many have experienced rape and persecution. Their children commonly suffer acute malnutrition.
Unsurprising, the women exhibit high incidences of emotional distress and trauma as well as post-traumatic stress disorders.
"Poor mental health of adult refugees, particularly among mothers, is also considered a risk factor for the psychological well-being and development of their children," Professor Islam says.
While refugees need immediate basics such as food and shelter, the study shows psychological support is just as important – and often, this psychological support needs to continue, sometimes over a long period.
Helping mothers and children
As part of a clustered randomised controlled trial,  approximately 3,500 Rohingya mothers and children aged between the age of 46 days and 24 months were targeted.
They were provided weekly support through peers to participate in the home-based Humanitarian Play Lab program, with a control group for comparison.
The researchers found that after a year, the mental health of mothers and children receiving psycho-educational intervention improved substantially, compared to the mental health of mothers and children in the control group.
"Mothers reported being happier and shared a greater sense of belonging," Professor Islam says.
In fact, mothers who had poor mental health at baseline, with high exposure to violent conflict in Myanmar and who experienced relatively more abuse in refugee camps, benefited the most from the intervention.
Furthermore, there were reductions in stunting, being underweight, and wasting among their children who had participated in the home program, underlining the vital alignment between mothers and their children when it comes to mental and general health.
"This implies that policies targeting the mental wellbeing of displaced mothers can be an important stepping stone to developing psychological resilience among their children. This helps them grow into well-rounded, healthy adults," Professor Islam says
"We should not also forget that all refugees around the world need more such support, and funding to provide services is available irrespective of their backgrounds."
Another critical finding of this research is the program's cost-effectiveness, which is vital for harbouring nations struggling to support large numbers of refugees.
"The intervention has been a low-cost program delivered by community peers who worked as volunteers, and it's a very cost-effective intervention compared to many other similar interventions across different settings in the world," says Professor Islam.
"BRAC has been scaling up the program since we finished our study, and the program has already reached out to more than 13,000 mother-child groups."
With support from international donors, Professor Islam believes the program can be scaled up much faster.
With another humanitarian disaster looming in Ukraine, the stakes are high.
"As in the Ukraine crisis, such welcoming attitudes would help refugees to settle temporarily and avoid many post-migration social and emotional trauma," he says.