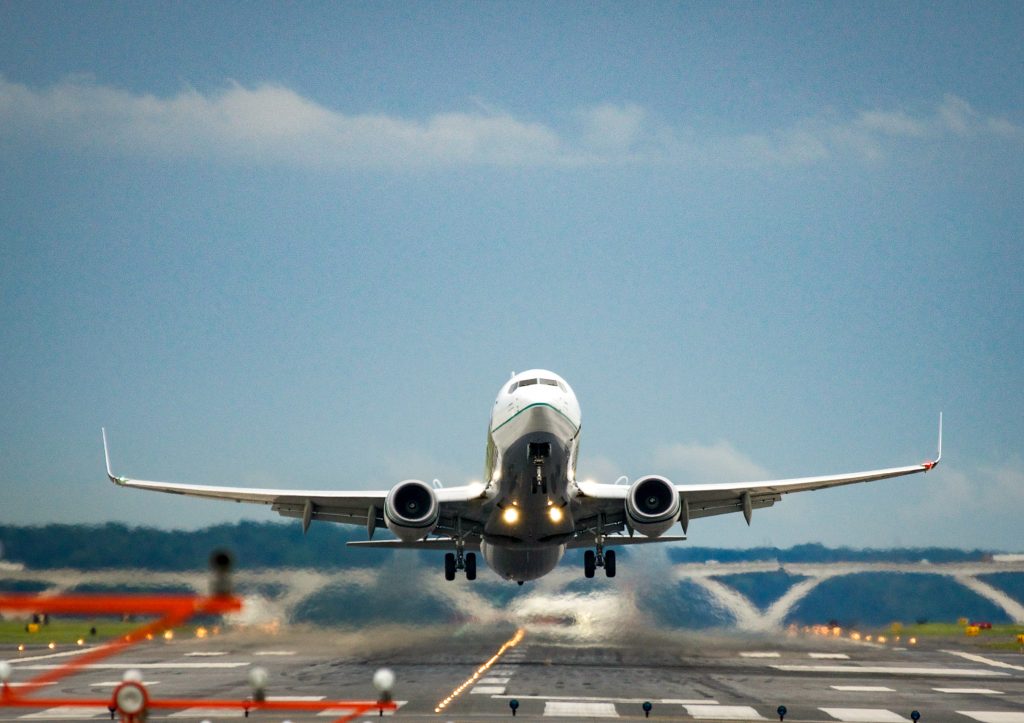 Can the aviation industry reduce its greenhouse gas emissions, or do we need more robust international laws to bring about change?
Since its early days, the aviation industry has expanded rapidly due to an ever-increasing demand for international air travel.
So too has its impact on climate.
The complex problem of aviation emissions is the focus of a study by Dr Jadranka Petrovic from Monash Business School's Department of Business Law and Taxation.
She says that to alleviate the situation, we need multiple strategies with a multidisciplinary approach.
"It's going to require actions taken at the collective and at the individual level," Dr Petrovic says.
"Given the degree of urgency attached to the issue of climate change alleviation, current observations in this research of lessons learned are timely and instructive."
Burgeoning aviation industry
Airlines connect billions of people annually and carry dozens of million tonnes of cargo over tens of thousands of routes, supporting millions of jobs, and delivering goods with a value of several trillion US dollars, according to the International Air Transport Association (IATA),
Each day around $17.5 billion of goods travels by air — 35 per cent of all world trade by value.
Yet the increasing demand for air travel and cargo transport places an immense burden on the environment.
"At present, transportation causes 14 per cent of global greenhouse gas (GHG) emissions. GHG emissions from this sector primarily involve fossil fuel burned for road, rail, air and marine transportation," Dr Petrovic says.
Nonetheless, the projected growth in air traffic is predicted to increase by up to 15 per cent by 2050 and aviation emissions are expected to double or triple at this current rate if left unmitigated.
"What makes this situation particularly complex is that anthropogenic GHG emissions have dramatically increased since the pre-industrial era, largely owing to economic and population growth, and what is further, and especially, alarming is that these emissions are now higher than ever," Dr Petrovic says.
This has resulted in atmospheric concentrations of carbon dioxide (CO2), methane (CH4) and nitrous oxide (N2O) that are "unprecedented in at least the last 800,000 years".
Can civil aviation regulations help reduce emissions?
The international community has made several attempts at regulating civil aviation GHG emissions both directly and indirectly.
While the subsequent treaties and regulations are legal instruments they can also be considered as having an additional role—to be simultaneously creators or reinforcers of social norms.
"They signal to the members of a community that the issue of climate change, for instance, is an issue others think is important," Dr Petrovic says.
Treaty regimes such as the UNFCCC, the Kyoto Protocol and the Paris Agreement have attempted to limit and reduce international commercial aviation GHG emissions. These have been coupled with single regulatory approaches such as the International Civil Airline Organization's (ICAO) carbon offset and reduction scheme CORSIA, and European Union's Emissions Trading Scheme.
Despite their significance, these existing international legal measures have not been able to resolve this complex issue.
Dr Petrovic explains that such attempts have resulted in a deadlock of some kind.
"The current international regulatory approach, which predominantly has ICAO as the main authority, is largely failing," she says.
"So, there are calls for the exploration and development of innovative legal measures that involve, or work in tandem with, the behavioural aspects of climate change."
Attacking the issue from many directions
Instead of only employing a regulatory approach, Dr Petrovic says that it is more appropriate to apply multi-dimensional and multidisciplinary approaches to a multi-scalar problem.
"The legal regulation of international civil aviation GHG emissions should be developed within a multifaceted architecture," she says.
"A holistic approach would allow for the development and immediate implementation of short-term initiatives, while a longer-term solution is sought."
A substantial body of literature highlighting the importance of these short-term initiatives has identified that behavioural change can be a key aspect of reducing civil aviation GHG emissions.
But how do we do this when the aviation industry is vital for both transport of people and goods around the world?
Regulation of aviation emissions
From a regulatory perspective, there are two ways the international community has responded to aviation emissions mitigation.
One approach has been to control aviation emissions through the signing and ratification of international treaties, and the subsequent 'transformation' of their provisions into the domestic laws of Member States (where those treaties are not directly 'incorporated' into domestic law).
Most notable treaties to combat climate change are the United Nations Framework Convention on Climate Change (UNFCCC), the Kyoto Protocol to the UNFCCC, and the 2015 Paris Agreement, which seeks to stabilise global warming to well below two degrees Celsius (2 ̊ C) above pre-industrial levels.
The second approach has been to reduce aviation emissions directly through the regulatory regime of the International Civil Aviation Organisation (ICAO).
But Dr Petrovic warns that the regulations set out by the ICAO equally need to be incorporated into the domestic laws of member states, in line with the previously ratified relevant treaties.
"Neither the UNFCCC, together with other relevant international legal instruments, nor the ICAO, has made any meaningful action on the subject of aviation mitigation yet," she says.
"And progress has not been adequate in terms of its pace, even though a sense of urgency is attached to the issue of climate change."
What does this mean for policymakers?
The increase in air traffic growth, together with the related emissions and the consequent increase of global mean surface temperature is a pressing issue that warrants exploration of possible solutions that would lead to more sustainable conduct of air transport in the future.
As the aviation sector grows over the next several decades, its impact on the global climate will increase significantly.
Because the reality of international policy formation is an incredibly protracted process, Dr Petrovic believes that perhaps the future of aviation truly lies in the development of short-term initiatives and, more specifically, through overall behavioural change regarding air transport.
"Further research into the acceptance and adoption of climate change social norms and values could very well be an important aspect to a sustainable future for the aviation industry," she says.
But climate change is a pressing and complex problem that our planet is facing currently, and multiple responses, both long-term and short-term, are urgently needed.
"Until the international community is willing to engage with legally binding provisions, short-term initiatives must be set off immediately while a longer-term solution is sought," Dr Petrovic says.