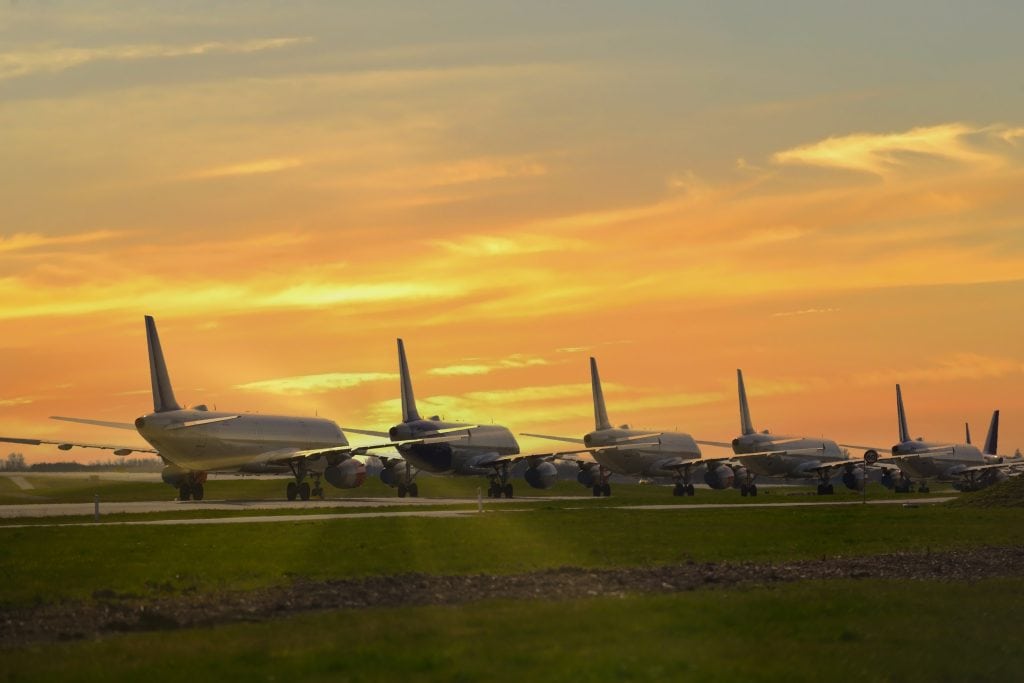 During the pandemic, aviation-related carbon emissions plunged to historic lows. But the global aviation industry is recovering.
When COVID-19 broke aircraft around the world, were grounded. Border closures, flight restrictions and cancellations meant entire fleets of planes were grounded.
To put it bluntly – it is the worst crisis in aviation history.
Dr Jadranka Petrovic from Monash Business School's Department of Business Law and Taxation has been studying the aviation industry's growing impact on climate.
Her previous research outlines the complex problem of aviation emissions and the multiple strategies that would be required to alleviate the situation.
This was complicated when the pandemic hit.
And on 5 March with massive drops in passenger numbers, the IATA estimated that the airline industry could lose between US$63 to US$113 billion.
Just eight weeks later, the IATA estimated a revenue drop of US$314 billion (55 per cent) and a traffic drop of 48 per cent.
"Due to heavily affected revenues for airlines, many employees in the sector lost their jobs and many airlines had to declare bankruptcy," Dr Petrovic says.
A dramatic drop in global energy demand and carbon emissions
Then, with the economic losses caused by the pandemic and the corresponding dramatic drop in primary energy demand, global energy-related carbon emissions fell by 5.8 per cent in 2020.
According to the International Energy Agency, this was 'the largest annual percentage decline since World War II'.
"The decline in emissions of almost 2,000 million tonnes of CO₂ is without precedent in human history," Dr Petrovic says.
"This is the equivalent of removing all the European Union's emissions from the global total."
While more data is needed on the exact impact of the COVID-19 pandemic on the aviation sector's carbon emissions over this period, so far, there has been a sharp decline in aviation activity.
Carbon emissions for 2020 are expected to drop significantly, compared to the forecasted 2020 emissions prior to the pandemic.
Using the ICCT's Global Aviation Carbon Assessment (GACA) model, carbon emissions from commercial aircraft international flights in 2019 emitted 914 million metric tonnes (mt) of carbon.
"The IATA predicts that emissions are 50 per cent lower in 2020 than in 2019 due to COVID-19," Dr Petrovic says.
The International Energy Agency said that emissions from international aviation fell by almost 45 per cent or 265 mt CO₂ across the year to 'a level last seen in 1999′.
This decline is comparable to taking around 100 million conventional cars off the road.
However, Dr Petrovic says that the largest decline in global carbon emissions in history is still smaller than expected given the scale of the pandemic.
"It was only temporary as it was quickly followed by a rapid rebound in energy demand and emissions in a lot of economies," she says.
"It is the view of many climate researchers this rebound is likely to increase even more strongly once the pandemic ends."
Meaning, this will only be a small impact of COVID-19 on emissions in several years – in 2030 and beyond.
What this means for future airline greenhouse gas emissions    
Perhaps not so surprisingly, as international travel slowly starts up again, civil aviation emissions are low.
Of the aviation's total 1.9 per cent emissions from passenger travel and freight, and domestic and international aviation: 81 per cent of emissions come from passenger travel.
A further 19 per cent from freight; 60 per cent of emissions come from international travel, and 40 per cent from domestic travel.
"However, the rapid growth in plane emissions could mean that in not-so-distant future, precisely, by 2050, aviation could take up a quarter of the world's 'carbon budget'," Dr Petrovic says
"So, this is a pressing problem which warrants urgent attention at both normative and implementation level."
Sustainable aviation
Dr Petrovic believes that post-pandemic, there needs to be faster development of sustainable aviation to meet passengers' concerns about environmental needs.
She says a broader behavioural change, including the reduction in business travel could contribute to tackling the problem of civil aviation emissions.
"While governments, international organisations and other players at the collective level play a significant role, it is ultimately dependent on each of us whether this will be successful at a practical level," Dr Petrovic says.
In other words, if every individual makes and sustains an effort in becoming a climate-change responsible citizen, collectively this could lead to promising results.
Rethinking our personal carbon emissions footprint  
For most people who fly, aviation is the biggest part of their personal carbon footprint.
For example, someone flying from London to New York and back generates roughly the same level of emissions as the average person in the EU does by heating their home for a whole year.
"Pre-COVID-19 aviation emissions were the fastest-growing, showing a consistent demand growth," Dr Petrovic says.
"This makes the aviation's commitment to achieving net-zero carbon emissions by 2050 — extremely challenging."
The commitment, of course, is aimed at aligning with the Paris Agreement's goal for global warming not to exceed 1.5⁰ C pre-industrial level.
Up and away
According to the IATA, ten billion people are expected to fly in 2050.
Their projections show that to be able to serve the needs of travellers at least 1.8 gigatonnes of carbon must be reduced in that year.
The IATA says net zero commitment implies that 'a cumulative total of 21.2 gigatonnes of carbon will be abated between now and 2050'.
Despite the challenge, Dr Petrovic believes the aviation sector is optimistic about the transition in 30 years, provided that governments and the entire sector work together and hold each other accountable for delivery.
"But the reality is not that promising, even with the possibility of innovative solutions on the horizon," she says.
"We don't have the technologies to decarbonise air travel yet and they are not likely to be achievable in a foreseeable future."
Waiting on technology advances
As we wait for the aviation sector's emissions reductions to become more substantial through technological advances, Dr Petrovic says we must increase public awareness of the risks associated with climate change.
"We need to vigorously promote education on how to live less carbon-intensive lifestyles and thereby support the transition to a more sustainable future with a more climate-friendly aviation sector," she says.
While it has been repeatedly emphasised since the pandemic, if we could address and adapt to the conditions provoked by COVID-19, we can and must confront even more closely the much more serious and way longer-term threat that is climate change.
"It is imperative that we do our best to prevent a strong rebound in emissions in the post-pandemic period not only by creating jobs and boosting economic growth but also — and as a matter of priority — by significantly reducing emissions," Dr Petrovic says.